Forty years ago, a homeless Korean immigrant built an Orlando martial arts empire. In 1987, he recruited his devoted students to act as amateur cast and crew for his ill-fated action movie, Miami Connection, which follows a TaeKwondo themed synth rock band in their battle against drug-dealing motorcycle ninjas.

THE ACTION MOVIE EPIC
In 2012, midnight moviegoers are crazy about the 80s music, hardcore action, and story of true friendship. However, 25 years ago, it was dead. In 1987, every Hollywood distribution company said it was trash. Movie critics named it the worst movie of the year and audiences rejected it, so it died at birth. The powerful resurrection of the action movie epic the Miami Connection has begun 25 years after its death.

Producer; writer, director and star Y.K. Kim said, "At the 2012 summer premiers in New York & L.A., I was astonished when I saw the audience going crazy with a never ending torrent of cheers, applause, laughter and screams like a riot throughout the entire movie. Many viewers even cried during a tragic moment in the film. After the movie was finished and the lights came on, nobody wanted to leave. They seemed to want to make the good feeling last. I have never seen a movie audience react like this in my life. I thought I was dreaming , so I pinched my arm... but it was not a dream, it was real! I feel like I am watching a dead body walking. It's like a miracle."

- Martial Arts World, November 2012

An '80s B Movie
Rises From the Dead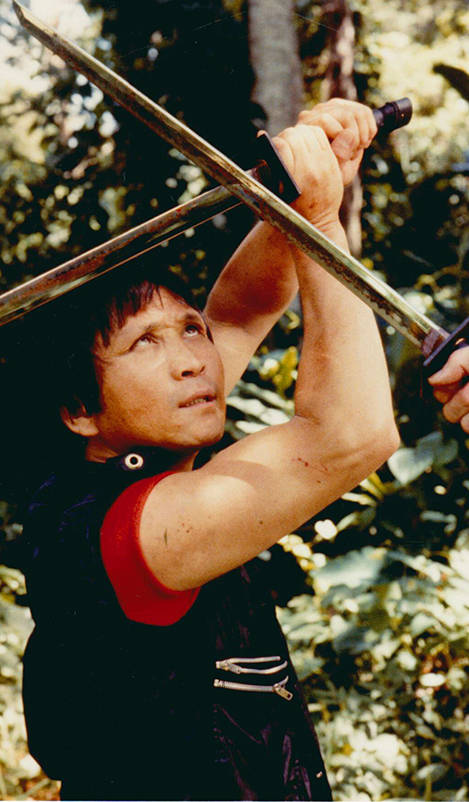 On Nov. 2 Drafthouse Films will rerelease an obscure ;80s martial-arts action film called Miami Connection in the hopes of turning it into a midnight-movie-style cult phenomenon. But when cast member Y.K. Kim met Drafthouse Films director Evan Husney before a screening at the New York Asian Film Festival this past July, the taekwondo master seemed pessimeistic. Says Kim, "I asked him, first thing, ;Why did you buy this trash?'" Miami Connection has long been a source of shame for Kim. This awkwardly scripted, amatuerishly acted film about synth-rock band called Dragon Sound - whose members are black-belt Martial artists and communally dwelling adult orphans, represents a rare but painful defeat for the taekwondo instructor, motivational speaker, and self-help author, who was unable to help his self-financed movie become a hit when it was orignally released in 1987. Born in South Korea Kim moved to the U.S. in 1976 and established the first of what became a successful Florida-based chain of martial-arts studios. In the mid-'80s, he appeared on a TV show in his homeland and was contacted by Korean action director Woo-sang Park about a possible collaboration.

The pair agreed to join forces for a film that , shot in Orlando, would showcase the benefits of a taekwondo and a star Kim, his teachers, and his students. The martial-arts guru, his students call him Grandmaster Kim - funded the budget, which ballooned to a near-bankruptcy-causing $1 million. He also signed on to produce the movie, despite knowing precious little about the film busiess-or, for that matter, films. "maybe once a year I watched a movie," says Kim, a trim sixty something given to apologizing for the deficiences of his English. "I was too busy."

"Miami Connection"
is the next, Greatest Midnight Movie!
-Renn Brown, Film Critic
Kim recalls the shoot being "a nightmare". I was in hell. To make movies, money flies so fast and it requires alot of work. But I couldn't stop because I told all my students, 'I will show you this movie in the theater.'" Kim who plays Dragon Sound's rhythm guitarist, claims he tried to sell the movie to more than 100 studios and distributors. "every single person said, ;Hey,Y.K. Kim, this is trash,'" he says, tears welling at the memory. "But I couldn't stop. No way!" With Park back in South Korea, Kim tried to improve the first cut of the film by shooting new scenes himself. But he still failed to sell Miami Connection and ended up self-distributing it in eight Florida theaters. Reviews were withering. The Miami Hearald described it as "hopelessly bad," while the Orlando Sentinel sarcastically praised the film for being in color. As for the folks who actually put down hard cash to see it, "some asked for money back for 'that junk movie you showed,'" says Kim. "I let my students down. It was terrible."
Miami Connection might have languished in obscurity forever were it not for Zack Carlson, a programmer at the Austin-based Alamo Drafthouse theater chain. Forever on the hunt for unknown cinematic gems for the Drafthouse library. Carlson paid $50 for 35mm print of the film on eBay in 2009. In april of the following year, he screened, sight unseen, just the first reel at a Drafthouse event. "People went completely bananas," he says. "Most of the action movies made in that era werze attempting to cash in. There are uncountable Rambo knockoffs, a million Road Warrior knockoffs . But Y.K. Kim had no concept of what was popular. Miami Connection is so beautifully innocent. That is what makes a movie a cult classic." However, when Husney Cold Called Kim's office about re-releasing the film through the Alamo Drafthouse's distribution and production arm, he got the brush-off. "They thought it was a prank call," he says. "it was literally like , click." Eventually , Kim signed on the dotted line, and since witnessing the film's rapturous reception at the July showing in New York - "Nonstop cheering, screaming, laughing!" he says, beaming- the Grandmaster has become a determined, and colorful, advocate for the film. Before the screening at this year's Fantastic Fest in Austin, he delighted attendees by slicing open a watermelon balanced on Carlson's chest with a samurai sword. So does Kim still think his film is trash? "Anybody who is looking for drama, romance-I dont think they should watch this movie," he says. "However, anyone who loves music and exciting action and true meaning of friendship, they're not just gonna love, they will be crazy about Miami Connection."